RUGBY ACADEMY INTERNATIONAL
Rugby and English Academy, Play Rugby and learn English in Dublin
This is an international Rugby and English Academy where players can learn English while they train with coaches selected from the top coaches.
During the whole month of July athletes from different countries have the opportunity to live completely immersed in the life of the Irish Colleges and benefit from an effective approach and method to learn English.
In this Rugby Academy the rugby programme has been created in conjunction with the "long term player development programme" fostered by the Irish Rugby Football Union.
HISTORY
The Rugby and English Academy was created in a meeting held in Marian College (Lansdowne Road, Ballsbridge, Dublin 4, Ireland) on September 2009 by the merger of three organization: Marian College English Language Summer School, St Michael college rugby coaching staff and Play Rugby Europe.
Since its establishment the academy attracted players from all over the world.
PLAY RUGBY AND LEARN ENGLISH
Our Rugby and English programme allows students to improve their English while also participating in a specific rugby training programme.
Students attend classes in the morning which follow the same layout as a General English Course.
Four afternoons per week students participate in a predetermined rugby training programme with a match being held every week. Students go on a half day cultural trip once per week and there is a full day excursion on Saturdays.
The Rugby Academy is designed for players aged between 10-18 years old who want to learn English and Play rugby the Irish Way and is open to players of any level. Our programme maintains the fun aspects of rugby and promotes rugby's core values; Teamwork, Respect, Enjoyment, Discipline, Commitment, Integrity and Sportsmanship. Enjoyment will be considered a fundamental aspect of the rugby programme.
RUGBY ACADEMY INTERNATIONAL PROGRAMMES
Rugby Academy International: Train, Play and Compete
CCL Program – Competence, Competitiveness and Leadership through Test Matches

Date July
Athletes Ages 12 – 18
Accommodation: Host Family (full immersion in traditional Irish rugby family life) and College.
Location: One of the most historic rugby Colleges in Dublin, swimming pool and other sports facilities on campus.
Special Features: Irish and International youth Players participation, Test Matches; those players who excel are given the opportunity to be part of the Excellence in Rugby Program with the High Performance Group and play in the Irish Trials and test matches at Under 15 and Under 18 level.
Rugby Academy International: Excellence in Rugby
High Performance Rugby and Strength and Conditioning Programme
Date July
Athletes Ages 13 – 18
Accommodation: Host Family and College.
Location: One of the most historic rugby Colleges in Dublin, swimming pool and other sports facilities on campus
Special Features: All players are provided with top class Rugby Training and Strength and Conditioning programmes to help maximise their potential, with the opportunity to play in the Irish Trials at Under 15 and Under 18 level.
COACHING
All participants will be assisted, coached and guided by IRFU professional coaches, professional players and experienced English teacher. All our teaching and coaching staff are native English speaker.
Particular emphasis will be placed on the following topics: individual skills and techniques; mini-unit and team skills; communication and the ability of make decisions. Athletes will learn the essential techniques required to play the game safely, they will learn and develop new skills and ways to express themselves in a team environment. During each rugby training session there will be "humbleness" that comes by working within a group and the "conscientiousness" for the safety and enjoyment of all players involved.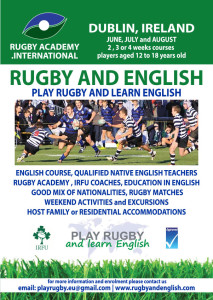 CONTENTS
Athletes will have more than 10 hours a week of training and interrelated activities, which include educational lessons, coaching, individual skills exercises, development of mental strength, intelligence and rugby abilities.
Rugby matches and trainings will be analysed through video supports.
Players will also gain a greater understanding of the importance of physical fitness, strength and conditioning and what it is appropriate for young players at any age or stage of the long-term player development continuum. There will be general and specific nutritional talks on how best to eat to be healthy while playing sports.
All Camp Managers are fully accredited IRFU coaches and have additionally completed IRFU Safe Rugby Level 1 and the IRB First Aid in Rugby.
IRELAND, DUBLIN
Ireland is an island located to the north-west of continental Europe and has a population of about 4.5 million people. It is a beautiful place with a strong cultural and historical tradition. Visitors often enjoy its beautiful landscape, with its green unspoilt countryside and magnificent coastline and are often amazed by the huge diversity in the Irish landscape. Yes, it does rain but this is partly why Ireland truly is so green and beautiful. Ireland really does have something to offer everybody.
One of the biggest attractions of Ireland is the people themselves. They are famous for their warm welcome, friendly natures and hospitality. Their wiliness to "have a chat" with almost anybody means that students never stop learning and have constant opportunity to practice speaking. Students often form strong friendships and stay in touch with their Irish families long after they return home.
Dublin, the capital city of Ireland has a rich and varied history spanning more than a thousand years. The city and its suburbs have a population of approximately 1.5 million. This means that it has all the advantages of a capital city while still retaining the charm and warmth of a smaller one.
Dublin's history is clearly marked on every street, from the bullet holes of the 1916 Rising that you can still see on O'Connell Street to the fine Georgian architecture that dates back to the seventeenth century. The city combines a strong sense of history and traditional values with all the excitement and vibrancy of a modern European capital. Dublin also boasts a wide range of parks from the beautiful St. Stephen's Green in the city centre to the Phoenix Park, Europe's largest municipal park.
English is the first language in Ireland. In Dublin it is spoken with a very neutral and easy to understand accent. This makes Ireland one of the most attractive places in the world to study English. Education and the skills of communication have always been highly valued and the country has produced some of the greatest writers in the English Language such as Oscar Wilde, James Joyce, WB Yeats and Seamus Heaney.
THE COLLEGE
The college is located in a beautiful green spot in one of the quietest area of Dublin.
The College is situated within seventy-acres of beautiful mature parkland which includes eleven rugby pitches, a soccer pitch, a gymnasium, a weights room, a running track, a cricket crease with pavilion and a table tennis room. Recently, the College opened six newly constructed tennis courts complete with floodlights.
This is considered the most modern school sport campus in the country.
The College can accommodate residential students on-site, most in comfortable double or triple rooms accommodation.
The catering facilities provide both hot and cold meals and a range of snacks. It is open before school and at break times.
The school was founded in the 1800 and the rugby posts were first erected in the college more than 100 years ago, that means that our students will breath many years of rugby history.
CLASSES, ACTIVITIES AND CERTIFICATE
Classes are on from 9:30 until 13:00 with a 30 minute break at 11:00. After class there is a 60 minute lunch break. After lunch, depending on the programme, there will be sports, activities or a cultural trip. Students must be ready at the designated time.
The first day in the college is somewhat different to the rest. Students are advised to arrive at 9:00 to allow for unforeseen delays as they may not be familiar with the bus timetable or the route. At 9:30 there will be a short introduction by the camp manager and principal. After there will be an assessment test. This is nothing to worry about, it is used to determine level of English so students can be placed in the appropriate class.
After the test students meet in the main hall again. Here a staff member will go through the college rules and some other important information. The students are then taken on a tour of the college. At the end of the tour students will be divided into their appropriate classes and attend the second morning class until lunch time. After lunch students on the general course go on a familiarisation trip of Dublin while students on the specialised sports courses have training.
Please note that all students on "Play Rugby and Learn English" programme MUST bring their training equipment with them on the first day.
Students on the familiarisation tour will arrive back to the college by approximately 17:00. For further excursions to the city centre students do not return to the college but travel directly home to the host family.
Students on "Play Rugby and Learn English" programme will finish training at approximately 17:00 – 17:30.
Students will receive the english course materials and workbooks as part of the programme. After completion of the english course, a Certificate of Attendance will be issued to each student. It certifies the progess that has been made and the level of English reached.
EXTRA-CURRICOLAR ACTIVITIES
In addition to training students go on one half day cultural trip per week. These are normally to local visitor attractions such as galleries, museums, sports stadiums or other popular sites. Students travel to the locations with their group leader(s) and one or more "Play Rugby" activity leader. Admission fees are included.
One full day excursion per week, usually on Saturdays, is also included. Students travel to places of interest, normally outside Dublin, by private bus. Admission fees are included. There is no organised activities on Sundays as many groups, host families or friends like to organise their own day.
Evening activities are held several times every week. These can include discos, Irish nights, karaoke, quiz night, treasure hunts, sports & games competitions, movie nights, barbecues and many more. Evening activities normally take place between 20:00 and 22:00 but this can vary depending on the activity and age group of the students.
The activities programme provides students with an opportunity to absorb some of Ireland's rich heritage in a fun and relaxed way while also allowing students the opportunity to improve their English. This informal and social aspect of the programme is key to improving language skills. It also allows students from different nationalities to get to know each other outside the classroom. Some of the friendships made at "Rugby and English" will last a lifetime.
RUGBY TRAININGS
Four afternoons per week students participate in a predetermined rugby training programme with a match, normally with an Irish team, being held every week.
The rugby coaching element in "Rugby and English" is led by professional coaches. The head coach is a former Irish international who has also captained Leinster. In addition to playing at the highest level of Irish & international rugby, the head coach is also a very experience rugby coach. He has completed numerous IRFU coaching courses and has coached players at all levels. He is currently the coach for St Michael's Senior Cup Team which, in recent year, has seen huge success including winning the Leinster Schools Senior Cup – the most important event in under 18s rugby in Ireland
RUGBY HEAD COACH STYLE
Our head coach has a special interest in rugby specific team building and his coaching sessions cater for this. His approach is that rugby is a simple game that is often made too complicated. In addition to the game it is also about relaxation and enjoyment. With this in mind, the objective of the "Rugby and English" Academy with the "Play Rugby and Learn English" programme is to provide all participants with an experience that will improve their skills on the rugby pitch and be, at the same time memorable, interesting and enjoyable.
STAFF
All of the staff at "Rugby and English" are committed to offering our students the best education during their stay. We inspire our students to work diligently to acquire as high a standard of English as possible.
 Our experienced teaching staff are well trained and highly qualified in what they teach. They are up to date with the latest methods in teaching English as a foreign language and combine academic excellence with sensitivity and receptiveness to each student's individual needs, talents and potential.
 All "Rugby and English" teachers are university graduates with qualifications in teaching English as a Foreign Language (TEFL) and are respected for their knowledge and professionalism.
ACCOMMODATION: HOST FAMILY
Students attending "Rugby and English" should stay with host families. All our families are inspected and carefully selected by our accommodation officers who maintains regular contact with each host family during a student's stay. Host families are conveniently located to the colleges and most have many years experience looking after students.
Accommodation is arranged on a full board basis with packed lunch Monday to Saturday. Students normally share a room with a student of a similar age but of different nationality. Unless specifically requested there is only one student of any particular nationality in each family.
Students normally travel to classes each day by public transport like bus, DART (suburban train) or LUAS (tram). Private transfers can also be arranged at an additional cost.
Living with a host family gives a perspective into Irish family life. The interaction with a host family plays a prominent role in developing language skills.
ACCOMMODATION: COLLEGE
Boarding schools offer an alternative to the "host family" option for students who wish to immerse themselves in the complete school experience. Boarding offers a unique community orientated way of life and suits students who are outgoing, sporty & adaptable. It offers a comprehensive academic and extra curricular environment which serves to develop each student to their full all round potential.
The "Rugby and English" campus is a self-contained community, which offers children a degree of independence and freedom to explore whilst providing a safe and secure environment. The well-being of our students is at the heart of our boarding provision. With a generous staff to student ratio, we guarantee round-the-clock care within a happy, well-ordered environment. We encourage staff to cultivate a friendly, lively, family atmosphere to ensure all students feel comfortable, contented and supported while they are away from home.
The College can accommodate residential students on-site, most in comfortable double or triple rooms accommodation. All the accommodation used by the Language School students is of extremely high quality. Each bedroom is either situated very close to our modern wash and toilet facilities or, alternatively, has its own en-suite shower room. Each student will have their own wardrobe, drawers, desk and chair.
The catering facilities provide both hot and cold meals and a range of snacks. It is open before school and at break times.