Rugby Training courses dedicated to young players
Play Rugby offers training courses of various levels for athletes and enhances participation in Rugby globally in accordance with the Long Term Player Development programme (LTDP) and World Rugby guidelines. We also offer training and education in some particular subjects for those athletes wishing to increase their knowledge in particular areas while they are attending a specific rugby-training course.
RUGBY ACADEMY
With over 30 years of experience in education and rugby training centres in the major rugby countries such as Ireland, England, France and New Zealand, to name a few. Play Rugby can provide athletes of all levels with the perfect Rugby Academy programme according to their age and experience.
Rugby Academy allows athletes to improve their Rugby with the best coaches available in a safe, enjoyable and stimulating environment within the best rugby countries. For 2022, 2023 and 2024 we will be running the rugby academy in conjunction with important leading rugby schools and clubs, considered among the best in the world.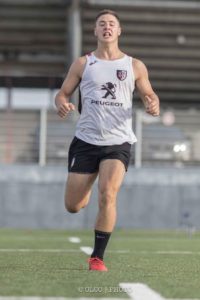 Tom, U16 from Stade Toulousain, France 
« J'ai participé à 2 stages un à Dublin et un à Londres et j'ai adoré !
A Dublin, les chambres, la salle de bain et les toilettes sont individuels. Tout est très propre et nettoyé tout au long de la semaine. Les repas sont bons, divers et largement suffisants, il y a également une supérette pour de petites collations. Les cours sont intégralement en anglais mais très bien expliqués, ils sont par groupe de niveau. Pour ce qui est rugby, les entraînements sont dans le campus, il y en a tous les jours, il y a tout âge et tout niveau. Les entraînements sont de qualités et sont plutôt divers tout en étant organisé, joyeux et sérieux. Il y a également des excusions pour visiter la ville et des soirées d'organiser, très sympas. »
LEINSTER RUGBY, DUBLIN 2015
RUGBY ACADEMY INTERNATIONAL, LONDON 2016
LEINSTER RUGBY & RUGBY ACADEMY INTERNATIONAL, DUBLIN 2018
READ MORE TESTIMONIALS
Rugby Core Values
Play Rugby provides rugby training courses dedicated to young players of various levels in accordance with the long-term player development programme (LTPD). Each rugby programme is designed to support individual players' expectations and sporting ambitions. Athletes can participate purely for fun or, if they choose, they can develop their skills and understanding of the technical aspects of game up to the maximum level achievable.
Each training camp aims to provide athletes with a structured and comprehensive rugby development programme, which allows them to experience similar conditions to players at a higher level and at the same time to live the game's core values: INTEGRITY, PASSION, SOLIDARITY, DISCIPLINE and RESPECT.
During each course, emphasis will be placed on skills development, game understanding, educational activities and enjoyment. In particular, players will learn effective techniques, mainly those who help athletes to play safe rugby. Perform them under challenging conditions and develop these techniques into core rugby skills through professional top-class coaching in a safe and secure environment. Coaches are accredited by the Rugby Football Union.
Rugby Camps and skills development
Play Rugby provides rugby camps for young players of various levels with an infrastructure that supports individual players' expectations and sporting ambitions.
At  The Rugby Academy athletes focus on all aspects of the game and performing skills under pressure. The Rugby Skills Development Programme is designed to develop players, based on the core four skills. 
Catching and Passing or Kicking
Tackling
Support and Evasion
The Breakdown (Defensive and Attacking with individual, mini-unit and team skills assessment and progressive development )
High-performance Rugby Player Development
The Rugby Academy offers high-performance and position-specific training programme for international players.
The rugby academy programme includes:
Technical skill assessment and progressive development
Positional play
Tactical skill assessment and development
Game Management Development & Training analysis
Mental Preparation
Physical fitness, Strength, Power and Conditioning
Nutrition Analysis & Planning
and much more…
Scrum Academy
The Rugby Academy is connected with top class and experienced scrum coaches in order to deliver the best scrummaging knowledge that allows players to approach this side of the game with the safest and most effective and up-to-date techniques.
The programme follows a traditional developmental model including the following Key areas :
Foundation Blocks
Bindings
The Power Position
Safe Scrummaging
School Year, Semester or Trimester Programme
We are able to include athletes in colleges of great rugby tradition, for a quarter, a half or a whole school year.
Mini Stays
Play Rugby runs short stays with weekly programmes, giving athletes the opportunity to live with host families or in the college residences. Contact us for more information.
Rugby and Languages
We run Rugby and English programmes during the Summer and during the school holidays. Over the years we have developed athletes of all nationalities with excellent sports and educational results.
PLAY RUGBY AND LEARN ENGLISH
Focus on Rugby and English Academy
Learning English as a Second Language through sports activities gives immense benefits to students. It promotes active learning of the language in any environment and also the intellectual, physical and social development of the learners.
Our Rugby and English Summer Camps combine the English language and your preferred sport to give you a lifetime experience.
Rugby is a rapidly growing international sport and is gaining popularity in every country around the world.
English is spoken at a useful level by a quarter of the world population [Quoting: British Council].
Contact us for more information
If you wish to receive more information please fill in the form below.
We will reply as soon as possible. Thank you.
A fun way to promote youth development.

Jack, U.S.A.

Rugby is honesty, respect for the rival, team working and sharing of traditional values.

Ramon, Spain

Ce jeux m'a appris le respect des autres, les valeurs qui lui sont liée comme le partage, m'a fais découvrir ce qu'était l'amitié et m'a permis de rencontrer de bons copain et des amis. Les exigences de ce sport m'on inculquer des valeurs tels, l'aciduitée, l'exigence le combat... Faisant de moi je le croit une meilleure personne. Le rugby ma parfois procurée des peines et des chagrins, il m'a aussi apporter les plus belle joie et je croix qu'une dès chose qui me procure le plus de plaisir sur cette terre est de disputer un match avec mes partenaires. Ce petit texte est écrit sans prétention, pour illustré le fait que pour moi le rugby est un jeux que je vis passionnément. Il fait partit de moi.

Martin, France

Rugby is passion, teamwork, sacrifice and love.

Ally, United Republic of Tanzania

Rugby is a religion!

 Edoardo, Italy

Rugby, one of the best way to grow and become a fully accomplished human being: group life, self-esteem and respect!

Anne, France